a. PLC Control Panels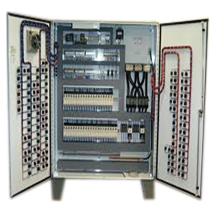 We present a high quality PLC control panel that is highly acclaimed in the national and
international market for long lasting excellent performance. Our PLC based control panel
provides maximum output and consumes low electricity.
These salient features of our PLC based control panel make it perfect for automatic filter press.
Compact in designs, our PLC based control panel is technically advanced and needs no
Maintenance.
Above Panels are used to Various Industrial Process Control, Water & Waste Water Applications
Industry.
b. Textile Machine Control Panel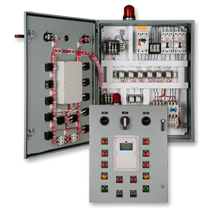 We offer precision made control panels for textile machines. The panels are made with attention
details that the machine demands and we also ensure that these are compatible with the
standard makes and models of the machines.

These control panels are exclusively designed for automation panel (PLC & Drive Based) control of
the different machines used in textile mills. These panels have good display and control systems
for ease of usage and maintenance.

c. Soft Start Control Panel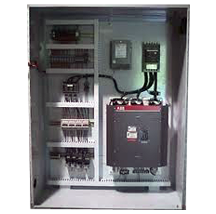 We hold expertise in designing and developing remarkable Soft Start Panel Offered for High moment of Inertia applications. Driven Load is Starts and Stops Smoothly as per Program Setting in the Soft Start Unit.
We offer the Panels are used to Pumps, Compressors, Fans, Conveyors, Gear or belt driven machinery and other Process Industry,

d. Forward/Reverse Panel
We are engaged in offering an automatic or manual forward/reverse motor driven applications. Both electrically and mechanically interlocked switch gear products are used.
These Panels can be used for Grinding and Turning applications.
e. Fire Hydrant Panels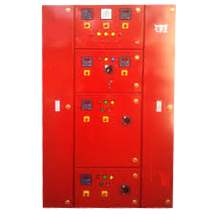 We Offer the precision made control panels for Fire fighting Systems with provision for engine auto start. Automatic and Manual control for Main, Jockey and Booster Pump with electrically interlocked between them.
Other related products in this category :
AC/DC Drive Panel, Electro Pneumatic Control Panel, AMF Panel, Starter Panels, Crane Control Panel, Annunciation Panels, Instrument Panel, Street Light Panel, Remote Control Station and Control Desk.